GUARANTEES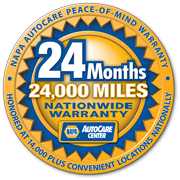 The NAPA AutoCare Peace of Mind Warranty
Covers Parts and Labor on Qualifying Repairs and Services for 24 Months/24,000 Miles.

There's no greater peace of mind than knowing you have one less worry by having your vehicles serviced by the professionals at your local NAPA AutoCare Center. They stand behind their work with the NAPA AutoCare Peace of Mind Warranty.

It's a written warranty that is honored at more than 14,000 locations nationwide - more than any other automotive repair brand.

So - no matter where your travels take you - if you ever experience a problem with a covered repair, you can count on a NAPA AutoCare Center being nearby.



What are the Benefits to You?
Included FREE with your qualifying repair or service work.
Covers parts and labor on qualifying repairs and services for 24 months/24,000 miles.
Extend your coverage to 36 months/36,000 miles when you use your NAPA AutoCare EasyPay Credit Card (applications available at participating locations).
Honored nationwide by thousands of NAPA AutoCare Centers, so you're protected even when you travel.
1-800-LET-NAPA (538-6272)



Anthony and his team are the best! I have been going there for over 20 years. They are honest and good at what they do! What more is there to say! Lots! They work hard to help out when it's an emergency. Anthony has always given the best advice about my cars and understood where I was coming from on a car that wasn't going to be around for long. He has never tried to "sell" me on anything like some other places do. Being a women it happens. Anthony is someone I trust completely! That says a lot these days! I would recommend them highly!
Carrie G.